I haven't been slacking!
I have several projects partway completed. In order to finish them, I need to start and complete other projects! ;)
I purchased some inexpensive organizing bins for a specific drawer today and then ended up using them in my junk drawer because they fit so perfectly and SOMETHING had to be done about the drawer.
This drawer is still not being utilized EFFICIENTLY but at least it's organized!
Here is the "before" that I barely remembered to take:
And here is my "after":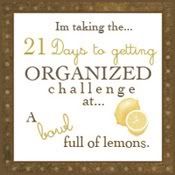 I'll have to get some more of those bins for my original intention...
I'm linking this up to A Bowl Full of Lemons 21 Days to Getting Organized Challenge (click on image for link).