This was my very, very first organizing project on this stint of mine... Under the bathroom sink.
I do not have a before picture but imagine, if you will, female bathroom paraphernalia from the past 15 years...
Yowch!
It was in boxes that had been moved around the bathroom and finally ended up in the closet. It was in plastic bags thrown on top of each other in the cupboard by a fed-up husband who had been trying to work on the plumbing.
It was a nightmare.
I found a 3-drawer bin at Walmart for $13 and knew that this was the perfect jumping off point for this project.
I went to work.
I purged mercilessly (did I really need that cologne from an old boyfriend?? really?? I mean, I've been married for 10 years!) and came up with this:
It is, quite obviously, still not perfect, but it is a dramatic improvement. In order to finish this project, I need to organize my counter and drawers which I haven't been able to do yet due to a 2-year-old with sneaky little fingers.
I am lucky to have vessels rather than sinks in my bathroom which allows much more clearance.
The tiny drawers in the top left bin house all my hair necessities... I should probably label it but I know exactly what's in each drawer: bobby pins/metal clips, hair elastics, claw clips, other barrettes, etc.
The blue bin on the bottom left houses my bigger hair clips as well as "feminine necessities." So accessible! I store bulk items in behind. Under the plastic lid is all my earrings and necklaces. I have barely any jewellery due to little ones breaking my meager supply. Eventually, I'd like to create this for my earrings:
and have something like this for my necklaces:
The big drawers hold all my facial, makeup and hair product stores, as well as such things as chapstick, deodorant and other body products.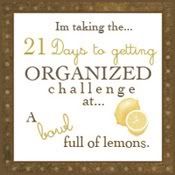 Organizing solutions are always evolving as we do so I will probably put this up at least once more in the future... Vastly improved, of course!
I'm linking this to A Bowl Full of Lemons 21 Days to Getting Organized Challenge (click on the image for link).